Kitesurf spots in Kenya
by CRousse on 11.25.2019 - temps de lecture estimé: 4mn
Voici le récit de mon kitetrip à Watamu, au Kénya et, plus généralement, sur le kitesurf au Kenya. Retour d'expérience...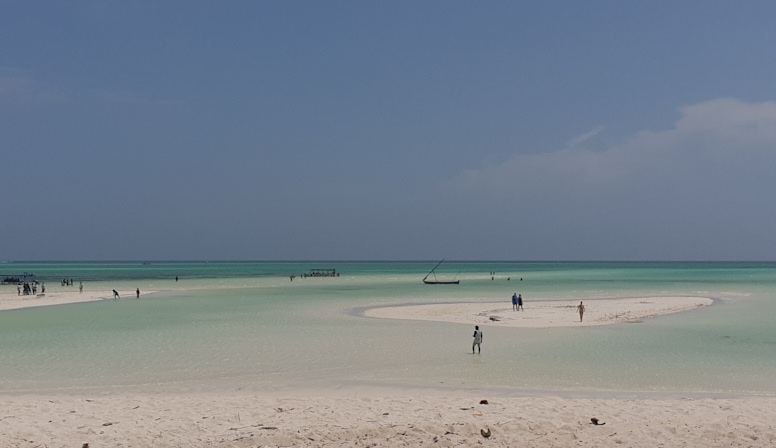 J'ai découvert comme beaucoup de monde le spot de Watamu grâce à la vidéo de Charlotte Consorti, et pour une première expérience, on est parti en février/mars 2018 pour un séjour de 2 semaines tout compris incluant un safari photos de 3 jours/2 nuits (ma femme ne fait pas de kite). Le vol de 10 heures s'est déroulé sans souci, mais s'est poursuivi tout de même par 3 heures de transfert en taxi de Mombasa à Watamu... puis par 20 mn de piste défoncée à 3 h du matin, éveillant chez nous quelques inquiétudes sur le lieu final de notre destination.
On s'est finalement retrouvé dans l'hôtel qui donne directement accès au spot. Après une courte nuit, j'ai découvert la plage de Jacaranta conforme aux images de la vidéo de Charlotte, sauf que c'était marée basse et pétole !... pas un souffle d'air, que dalle, nada ! Je me suis dit qu'encore une fois, le spot avait été survendu mais bon, on allait profiter de la plage et du safari... Vers les 11 h, une petite brise de Nord /Nord Est s'est levée. Elle n'a pas eu de cesse de se renforcer jusqu'en début d'après-midi et de souffler jusque tard en soirée, avant de s'éteindre. Même scénario le lendemain. Ça été comme cela pendant 10 jours de suite, et l'hiver dernier, j'ai eu droit à 34 jours de navigation non stop entre janvier et février dans une eau à 28 degrés minimum et tempête de ciel bleu en prime. Que demande le peuple des kiteurs ?
Un des plus beaux spots du mondeAprès avoir parcouru pas mal de spots autour du monde et pratiqué le funboard comme le kite, je place la plage de Jacaranda dans les 3 plus beaux spots où je suis allé.
Le vent souffle entre 10 et 25 nœuds (avec une journée à 30 nœuds l'hiver dernier) le changement de couleur du lagon avec les marées est un spectacle saisissant dont je me lassais pas. Et puis naviguer, souvent seul, dans une eau turquoise accompagné seulement de poissons volants et de tortues surtout lors de mes down et up wind en foil... magique !
Autres spots de kitesurf au Kenya
Watamu n'est pas le seul spot de kite du Kenya, il y en a plein d'autres connus, et sûrement d'autre encore à découvrir, du Sud au Nord, liste non exhaustive : Diani Beach, Nyali Beach, Watamu, Malindi, Che Shale, et enfin l'archipel de Lamu.
A priori, plus on monte vers le Nord, plus le vent est fort. Je suis allé une journée à Che Shale, spot situé à 30 mn en moto taxi au Nord de Malindi. Contrairement à Jacaranta où le vent est Side Bâbord l'hiver, le vent y est On. Le spot se présente sous la forme de 2 grandes baies de 4/5 km chacune séparée en 2 par une pointe sableuse où est installé un hôtel et une école de kitesurf. Il y a aussi à 15 km au Sud de la plage de Jacaranda, le spot de Garoda qui est une grande plage de 5/6 km.
Il y a 2 périodes de vent : la première, du 15 décembre au 15 mars où le vent souffle du Nord/Nord-Est et qui est side-babord, par rapport à la plage de Jacaranda.
La seconde du 15 Juin au 15 Septembre ou le vent souffle du Sud-Ouest et qui est side-on, toujours par rapport à la plage.
Comment aller au Kenya et plus précisément à Watamu ?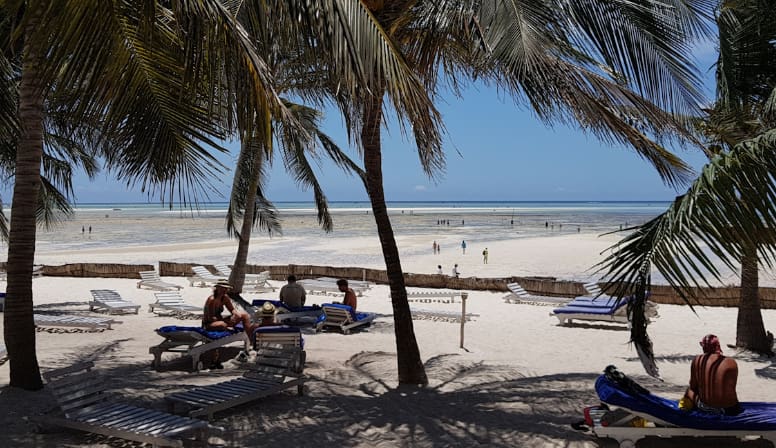 Le plus simple - mais pas le moins cher - est de prendre un vol direct de Paris pour Nairobi. Ensuite, 2 options : soit Nairobi/Mombasa (mais il y a 3 h de transfert pour 100 km comme décrit plus haut) ou Nairobi/Malindi et on est à 20 minutes du Spot. Les compagnie locales qui font la rotation sur le vol intérieur sont : Kenya Airways, Fly 540 et Jumbo Airsways pour les 2 destinations.
Il n'y a pas, à ce jour, de vol direct pour Mombasa au départ de Paris. Par contre, j'ai découvert qu'il y en a un au départ de Bruxelles et je sais aussi qu'il y en a un au départ de l'Italie, mais je connais pas le nom des compagnies qui assurent ce vol.
Plusieurs options : directement sur le spot de Jacaranda il y a 2 hôtels sur la plage, les pieds dans l'eau :
Le Jumbo et le Jacaranda qui sont commercialisés en France, c'est le même propriétaire italien qui gère les deux. On les trouve en mode all-inclusive sur des sites de vente en ligne souvent avec le vol et Safari photos compris de 3 jours/2 nuits en option pour la formule sur 2 semaines. Il faut compter entre 1500 et 2000 € avec l'avion selon la période. Petit plus, ils offrent une structure style mini-club pour les enfants/ados. Par contre, c'est une clientèle essentiellement italienne.
Il y a aussi des villas privées, directement sur la plage ou en second rideau, en général avec une formule petit-déjeuner seul, à partir de 30 € par personne pour un premier prix sur la base d'une chambre double.
Des hôtels, appartements, villas, chambres à Watamu Town ou Malindi Town, beaucoup moins chers mais avec l'inconvénient d'emprunter la piste défoncée tous les jours pour aller jusqu'à Jacaranda. Compter 5 €/jour l'aller/retour en moto taxi et 40 € en voiture, ce qui n'est pas négligeable. On trouve beaucoup de ce type de locations sur Booking, AirB&B, Trip Advisor, etc.
Quels sont les risques sanitaires à Watamu ?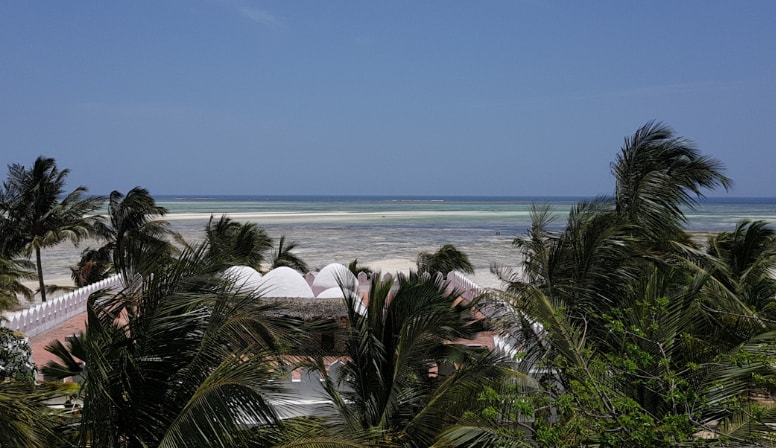 Le Kenya est une zone où le paludisme est présent au même titre que la fièvre jaune, donc a priori, vaccin et traitement préventif contre le paludisme sont nécessaires. Dans les faits, le vaccin contre la fièvre jaune est fortement conseillé, il est valable à vie. Pour le paludisme, ça dépend... je connais des gens qui sont venus deux fois pour trois mois à Watamu sans prendre aucun traitement préventif et qui ne l'ont pas attrapé, donc chacun fait comme il le sent.
L'eau du robinet n'est pas potable. On se lave les dents à l'eau minérale, le meilleur moyen d'éviter les risques de diarrhée potentiels.
L'autre option est de faire comme Humphrey Bogart qui, sur le tournage de « L'odyssée de l'African Queen », est le seul à n'avoir jamais été malade alors que toute l'équipe du tournage avait été décimée par la dysenterie. Sa méthode : il se lavait les dents au Whisky !...
Christophe Rousse, 58 ans, d'abord planchiste depuis ses 16 ans : 15 ans de compétition uniquement en Slalom/Formula, puis passage au kite en 2004, a parcouru une bonne quarantaine de spots en 40 ans, aussi bien en planche qu'en kitesurf (Hawaï, Venezuela, Grenadines, Égypte, etc.). Il pratique essentiellement le freeride en twintip et, de plus en plus, en foil.
Envie d'écrire pour ce blog ou de proposer un sujet ? Envoie-nous un message...
5837 personnes ont parcouru cet article. 706 ont réellement pris le temps de le lire, soit 12%.
to submit an article
Simply send your text to the address info [@] wwkite.fr.
Between 500 and 1000 words approximately.
The photographs of illustration must imperatively belong to you.
You must be registered on the site.
If your text is retained it will be published on the blog and on the page of the spot concerned.